Rajdeep Group is one of the most reputed distribution houses in Andhra Pradesh and Telangana, with a legacy of over 30 years. We deliver premium industrial and commercial products & services. We are into long-term partnerships with the top multinational brands like Mobil, Calderys, Maruti, Amara Raja, FG Wilson, Llyod insulations etc.
Headquartered in Hyderabad, Rajdeep has a large customer-base across the two states, which speaks volumes about our capability and commitment. Our team of experienced and knowledgeable consultants offer the most optimal solutions to the clients, after evaluating their business needs. The solutions, provided by these industry experts, bring maximum impact to the business performance.
Performance management is an ongoing process and Rajdeep delivers excellence through its unmatched service. Our skilled technicians undergo rigorous training, which makes them capable of handling the most critical situations with ease.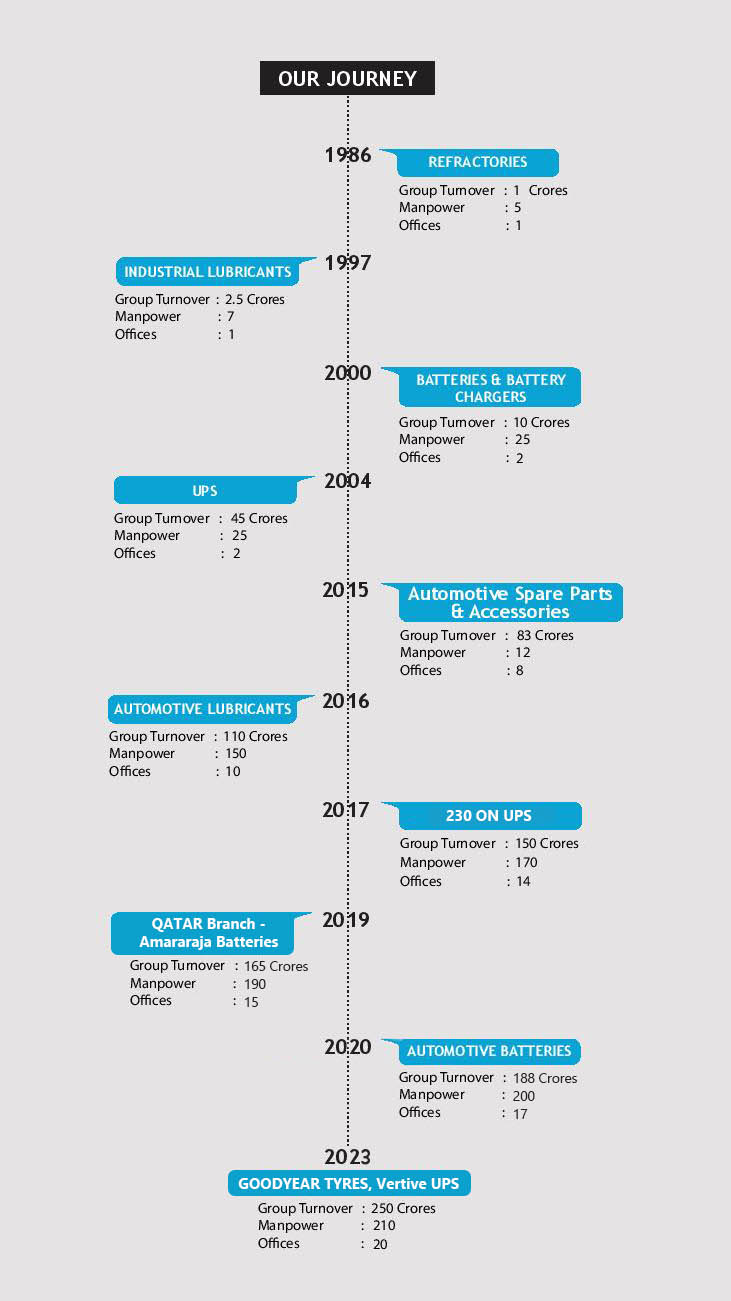 Our Philosophy
At Rajdeep, business excellence is at the focal point. It is our constant endeavour to raise the bar in customer service. We value each relationship and thus, our customers never have to compromise on quality or service.
Our experts know the markets we serve and have a thorough understanding of the products we offer. During each consultation, they recommend the most suitable products to our clients. Our technical teams stay up-to-date with the latest technologies through regular trainings.
We believe that collaboration is the backbone of each partnership. Our analysts evaluate the market needs and demand trends to provide insights on the planning and forecasting. Together with these insights and customer feedbacks, we devise a distribution strategy, together with our partners. These measures ensure benefit to all the parties involved with us.
Vision
To become a reckonable force in the sales and marketing of technology driven premium products and form a smooth interface between the world class vendors and the market.
To build stability into our business based upon sustainability goals related to staffing, training, product mix, data backup, communication, safety, application of renewable energy and financial planning, thereby ensuring business continuity.
To adopt and follow professional approach, ethical practices and innovative methods in all areas of operations.
To drive the culture of continuous improvement and move forward by setting aggressive targets year on year.
To build a dedicated and committed professional work force to support our ambitious goals.
Mission
Our philosophy at Rajdeep is to deliver the world's finest products and solutions to our customers in order to achieve the highest possible level of performance. We believe in innovating, improving constantly and creating a powerful impact in the industries we serve. To achieve these goals, we invest in the development of skills and technology learning of our employees, capture strategic opportunities that will strengthen our business and at all times be an honest and ethical corporate citizen.
We are committed to being a vital contributor in the entire spectrum of industrial segments by providing premium and reliable products. Customer satisfaction is our prime focus and all our employees are always ready to take on the responsibility of fulfilling this goal. Rajdeep Group is unreservedly committed to the principles of open competition. Our company's competitive behavior is marked by integrity and fairness as well as openness and transparency of mutual relations.